Template management plays an ever increasing, crucial role in internal and external communication risk management of today's modern Corporations. Organizations collectively generate billions of documents on a Global basis, most of which are, or should be, Template-based to ensure compliance with company standards such as Word Styles, Branding and Formatting. However with the enactment of the Sarbanes-Oxley Act (SOX) legislation world-wide and the growing influx of Quality Management and Information Security Management practices following the ISO 9000 and ISO/IEC 27000 family of standards, it is becoming necessary to establish a transparent chain of individual responsibility around approval of text, legal and regulatory compliance, all with a well-defined segregation of duties which is able to be subjected to an audit trail. Given the current risk sensitive business environment, it is vital that every document generated falls in line with a business' compliance standards by using the latest up-to-date, and approved, Template.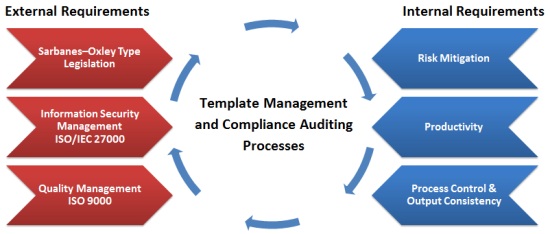 Document Management versus Template Management
The requirements of template management are fundamentally different from those of document management.
The main differences between template and document management are:
| Document Management | Template Management |
| --- | --- |
| Omissions or errors in one document do not reflect in other created documents. | Omissions or errors in a template reflect in multiple documents promoting document inaccuracy - greater risk associated with an error in a template. |
| Document created in a few versions. | High number of template versions as templates develop with changing business needs. |
| Active lifecycle of a document (from first version to finalization, excluding archiving) is typically short (weeks-months). | Active lifecycle of a template (template creation, changes and usage) is long-lasting (years). |
| Low number of steps in document creation and development. | High number of steps in template creation and development. |
| Documents are typically accessed directly by end users. | Templates are typically accessed by document automation systems or line-of-business systems creating documents automatically or interactively with well-defined input. |
| Document content is static and visible: formatted text, tables, images, etc. | Templates contain business logic in the form of macros, metadata, fields etc.; template content visible in the final document is dynamically driven by business logic. |
| Documents, typically, do not link with external data sources. | Templates need to maintain links to multiple external data sources. |
| Final documents are often standalone entities. If parts of other documents are included, the links to the origins of the content are lost. | Multiple templates and re-usable pieces of content are often merged into one final document. Links to the content origins are documented. |
ActiveDocs Opus Template Management
ActiveDocs provides a feature rich template management solution geared for corporate scale template management. The solution can help to transform stringent regulatory and internal efficiency requirements into significant increase in productivity, unparalleled level of control, and reduced risk exposure.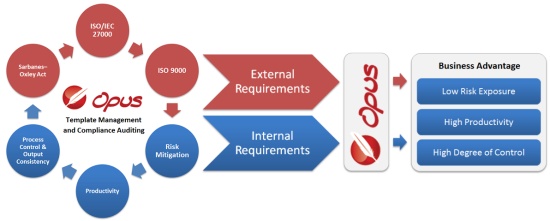 Template Management and Compliance Auditing with ActiveDocs Opus
To learn more about how ActiveDocs Opus caters to the unique requirements of corporate template management and compliance auditing, please contact us.