To ensure that ActiveDocs clients have an unrestricted choice of applications when building an end-to-end solution, we have intentionally maintained platform agnostic integration interfaces. In order to provide freedom of choice for our customers, ActiveDocs does not pursue vendor specific partnerships. Consequently, our customers always have the potential to select from all vendors in a particular technology area.
ActiveDocs Opus integration capability spans across all of its functionality layers. Whether you want to integrate document generation into your existing set of applications and processes, or are designing a brand new enterprise-wide solution, ActiveDocs Opus can become part of the solution through agnostic, standards-based connectivity.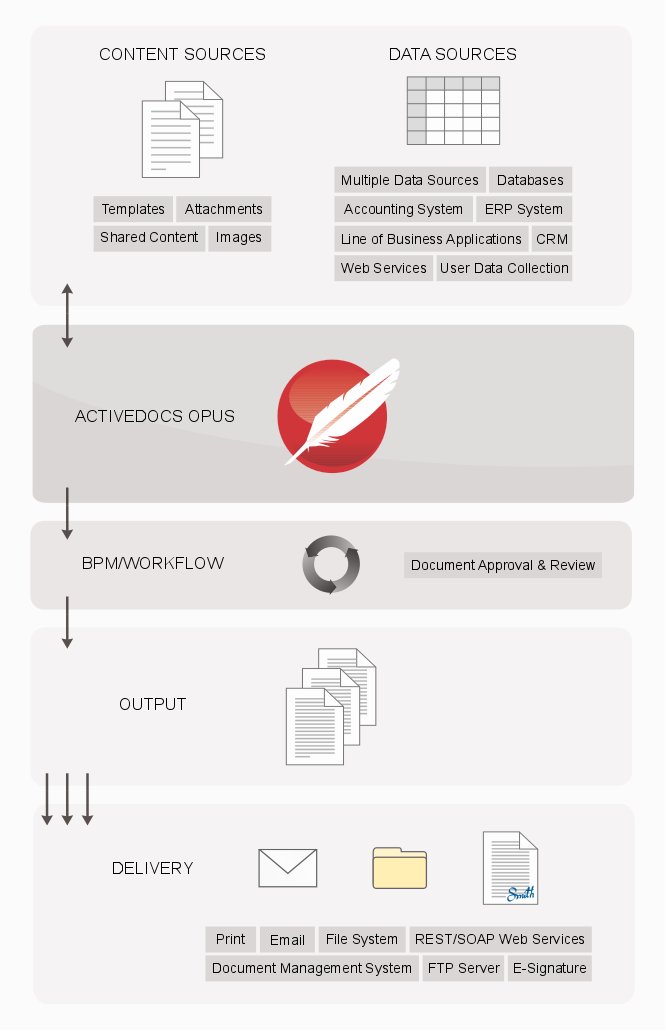 Integration Examples
Integration with Microsoft products
You don't have to move to another environment to create your documents. If your users want to create documents from SharePoint, Dynamics CRM, Outlook or other Microsoft Office products, ActiveDocs Opus is ready to be used where your users are.
Learn more about ActiveDocs Opus integration with Microsoft products.
Integration with Business-Critical Applications
Document automation can be easily implemented into the processes that are most important to your business. Whether your organization runs on SAP, Temenos, or utilizes other ERP systems, ActiveDocs Opus' exceptional integration capabilities help with rapid deployment of process improvement solutions.
If your processes are driven by workflow engines such as Nintex, K2, Kofax, Skelta or others, you can use ActiveDocs Opus document automation within your existing workflows.
ActiveDocs Opus integrates with these and many more business-critical applications through open standards connectivity.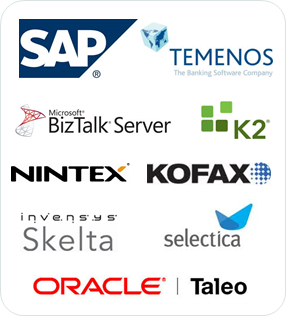 Cloud Integration
ActiveDocs Opus works with the leading cloud services providers, giving you the high flexibility of a cloud based solution. You can generate documents directly from Salesforce or Dynamics CRM Online. Documents can be stored in many of the cloud data repositories available. ActiveDocs Opus can help you work productively with Office 365, accessing SharePoint and Office applications in the cloud.
Through open standards connectivity, ActiveDocs Opus integrates with these and many more cloud applications.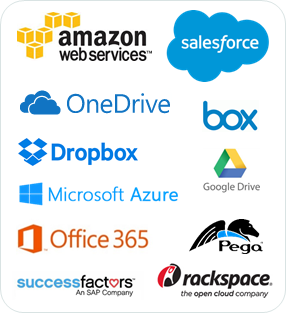 Electronic Signatures
Document workflows often require a signing step that solidifies the contractual obligations of the involved parties. Organizations frequently implement electronic signatures to expedite the signing process. A quicker signing turnaround is even more important in the automated document processes, where manual signing can become the bottleneck.
ActiveDocs Opus provides a platform-agnostic interface for integration with electronic signature providers. This includes support for multiple signees and signing parties, custom delivery channels, metadata handling, and other e-signing related capabilities.
You can learn more about ActiveDocs Opus eSignature Integration in this white paper.
Open standards connectivity is available to enable integration with these, and other electronic signature providers.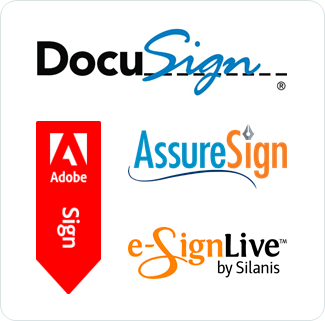 DMS Integration
Whether your document management system is flexible or rigid, the integration capabilities of ActiveDocs Opus make deployment of DMS-integrated solutions a simple task that does not require in-depth IT knowledge. Documents can be automatically stored into appropriate locations and assigned names following naming conventions, with metadata populated automatically and dynamically.
ActiveDocs Opus uses open standards connectivity to integrate with these and other Document Management Systems.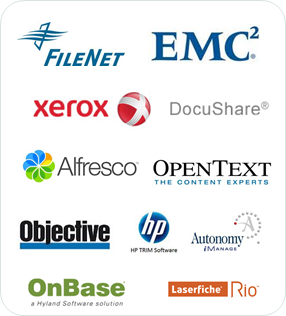 Other Systems, Legacy Applications and Databases
The open-standards connectivity of ActiveDocs Opus allows it to be integrated with many other systems and applications. If you have not seen your software product here, or if you work within a custom developed solution, contact us to find out how ActiveDocs Opus can be integrated into your environment.