The integration capabilities of ActiveDocs Opus allow the complete document creation scenario to be performed from within Microsoft Outlook. With a simple Microsoft Outlook setup, a user can click a button to create a document - for example, an Insurance Policy Proposal - using the ActiveDocs Opus document creation wizard. The document is created and data is pulled into the document or added by the user, but more than simply merging data into a document, the template can contain business logic controlling the required content. Got a customer from out-of-state? The relevant clause can be included automatically. ActiveDocs Opus users can set up and produce a variety of documents from within Microsoft Outlook without further IT involvement.
ActiveDocs Opus Integration allows the creation of both the email content and the attached document from within Microsoft Outlook. Created documents can be permanently stored in a selected location determined by workflow or default settings. An end-to-end solution utilises three simple steps shown in the Insurance Policy Proposal example below:
Start Document Creation from within Microsoft Outlook
The ActiveDocs Opus Document Wizard retrieves and displays the required information from Microsoft Outlook with optional editing, and allows the user to enter any other required information
The completed document is stored in the selected location and the user is returned to the Microsoft Outlook window with the created email and attached document(s)
Step 1 - Start Document Creation from within Microsoft Outlook
To invoke Email Document Creation, the user clicks a custom button in Microsoft Outlook.
Step 2 - The ActiveDocs Opus Document Wizard
The ActiveDocs Opus Document Wizard will be displayed if additional user input is required. Otherwise the document will be created without a need for user interaction and all the required data will be populated automatically.
Step 3 - Email and Attachments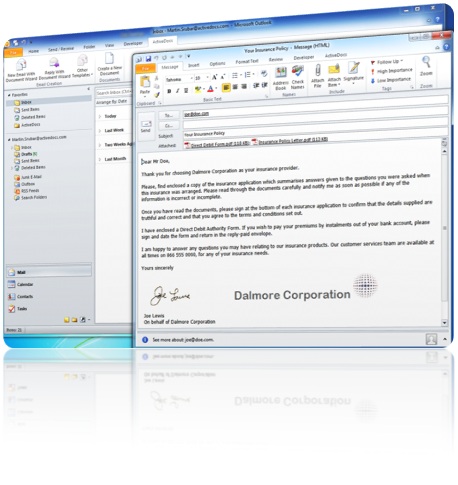 With ActiveDocs Opus and Outlook
The ActiveDocs 'right template, right now' philosophy and seamless integration mean that document creation is discreetly, and discretely, controlled to virtually eliminate document risks
Outlook users can rapidly and accurately create and store complete and properly-formatted documents
Seamless integration gives users a smooth workflow with an easy transition between Outlook and ActiveDocs Opus