ActiveDocs delivers consistency and accuracy to business-critical document creation processes at CoBank.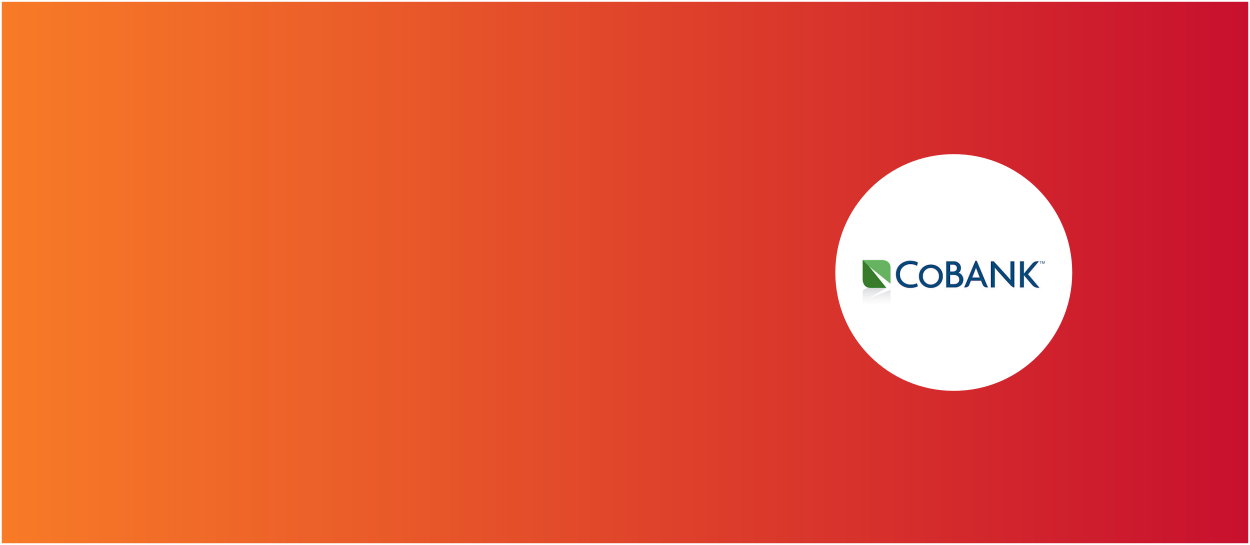 CoBank is one of three wholesale banks in the USA's $191 billion Farm Credit System that serves the lending needs of farmers, farm cooperatives and infrastructure cooperatives nation-wide. Creation of legal documents that underpin CoBank's lending and leasing is a critical component of their core business.
Each of CoBank's lending documents can be unique to the case and the client. This used to require the Legal Lending Specialists to have in-depth knowledge of how the lending documents needed to be constructed and what rules should or shouldn't be applied in each individual case. This expertise could only be acquired by years of experience in performing the largely manual document creation process.
CoBank used to utilize approximately 350 templates and a library of more than 700 clauses that could be inserted in the produced documents. The templates and the clause library used to be accessed by Legal Lending Specialists through CoBank's custom-developed application.
Company
CoBank, ACB
Founded
1989
Industry
Financial Services
Headquarters
Denver, CO, USA
URL
Challenge
Enable large number of CoBank's employees to produce documents that require complex decision making and knowledge of business rules.
Solution
CoBank implements ActiveDocs to generate legal lending documentation, integrates with internal data sources and a custom-developed customer workspace application.
Benefits
Business logic of all of CoBank's automated documents now resides in ActiveDocs. CoBank's employees can generate complex documentation quickly and accurately without having to rely on the expertise of Legal Lending Specialists.
Download a Copy
The automation and template rationalization process saw a reduction in the number of templates by nearly 80%.
The Solution
CoBank now uses ActiveDocsto automatically generate lending and leasing documentation, to produce large volume batch communication and to manage their Templates and reusable clauses.
The team at CoBank worked closely with the ActiveDocs Professional Services team. The implementation process was made easier by the fact that ActiveDocs works natively with Microsoft Word document formats. This ensured that the existing documents could be brought into the new system with 100% fidelity. Subsequently, the automation and template rationalization process saw a reduction in the number of templates by nearly 80%.
The ActiveDocs Rules Engine enabled all decision making that would have been previously in the domain of Legal Lending Specialists to be implemented into ActiveDocs Templates. This has helped CoBank's employees to produce documents without delays, with high accuracy, and the process no longer requires the depth of knowledge of Legal Lending Specialists to enable creation of every document.
A crucial requirement was the ability to provide data integration with CoBank's SQL-based customer information data source. This was achieved through use of ActiveDocs Data View functionality that allowed CoBank to connect to its data source and abstract this data layer from the Templates themselves.
CoBank has also developed a tailor-made customer workspace that interfaces directly with ActiveDocs and provides a single access point to important customer information and access to documents generated by ActiveDocs. ActiveDocs Document Wizard can be launched directly from the application and completed documents are stored in OpenText eDocs.
Throughout the project, every deadline set for ActiveDocs was met and the entire project that involved nearly 2,000 person hours of work by ActiveDocs and CoBank combined was delivered within 5% of budget.
How it Works
When a user needs to create a document they open the Customer Workspace application or ActiveDocs Express Wizard in their web browser. The application is most often accessed from a desktop computer but can be used from mobile tablets and cell phones as well. ActiveDocs displays the list of Templates that are available to the user based on their privileges and membership in a business unit. The user clicks on the Template to start document creation or can preview Templates and read descriptions to ensure that the correct Template has been selected. The relevant questions are then presented in a series of simple steps. Most of the data may already be pre-populated from the data sources. Some questions may require user input or verification of the pre-populated data. The data and answers are dynamically evaluated so only the relevant questions are displayed. For example, if a section of the document has been determined by business logic as irrelevant, no questions about that section will be asked. Once the user completes their series of steps, they can decide to assign the next portion of the document to another user.
After the questionnaire has been fully completed, ActiveDocs generates the document, strictly following all set business rules and utilizing the provided data. Based on the requirements and defined parameters, the document may then be subjected to an approval process in ActiveDocs. The document is assigned to a single or multiple approvers. They may then accept or reject the document and provide comments for the creators. When the document is finalized it is distributed to its recipients and archived in OpenText eDocs.
The documents can be easily accessed from CoBank's customer workspace that shows all documents that are relevant to a selected customer.
Key Features
Business Rules Engine allows for complex business rules to be implemented, providing for a wider range of employees to generate documents accurately and without delays.
Integration Capabilities of ActiveDocs make it possible to integrate with data sources, customer workspace applications and the DMS application OpenText eDocs.
Microsoft Word integration allowed CoBank to automate and consolidate their existing templates without additional rework or loss of fidelity.
The Benefits
After implementing ActiveDocs, document creation has become a task that many more employees can perform individually without the time-consuming involvement of subject matter experts. Hundreds of business rules have been implemented in CoBank's Templates and most users can now generate documents with accuracy and completeness that only a small number of employees with years of experience were able to before. Additionally, CoBank employees now have a single access point for generation of documents.
Every document that is produced is based on the latest approved Template and utilizes the latest data.
The use of ActiveDocs Data Views in CoBank's Templates makes maintenance tasks easier. If any change to the data connectivity is required, it can be performed centrally on the Data View level while none of the Templates need to be modified.
ActiveDocs allows a multi-stage approach to document creation where the Document Wizard process can be started by one person and later handed over to others who may need to work on other sections in the creation process. The relevant tasks are displayed in the ActiveDocs workspace and the users can be notified of new tasks or changes in document status via email.