One of Gartner's key findings from above states:
"Capabilities that are replicated in multiple products just to fill gaps in overall content strategy will lead to waste and overspending."
ActiveDocs is a document generation engine. We provide a product that focuses on generation of high value documents and communications. The CIO of a large client, a multi-billion, Fortune 100 Company, told us:
"Considering what we've learned, we wish ActiveDocs could be the document engine of our CCM software!"
That testimonial was unsolicited. It arose directly from our client's experience of ActiveDocs' document generation capability, and its ease of use by business users.
ActiveDocs and CCM
So how does ActiveDocs sit in relation to CCM? Another client, interested in replacing their outdated CCM solution, labelled the area where ActiveDocs meets their needs as CCG – Customer Communication Generation. They created a picture like this to make their point: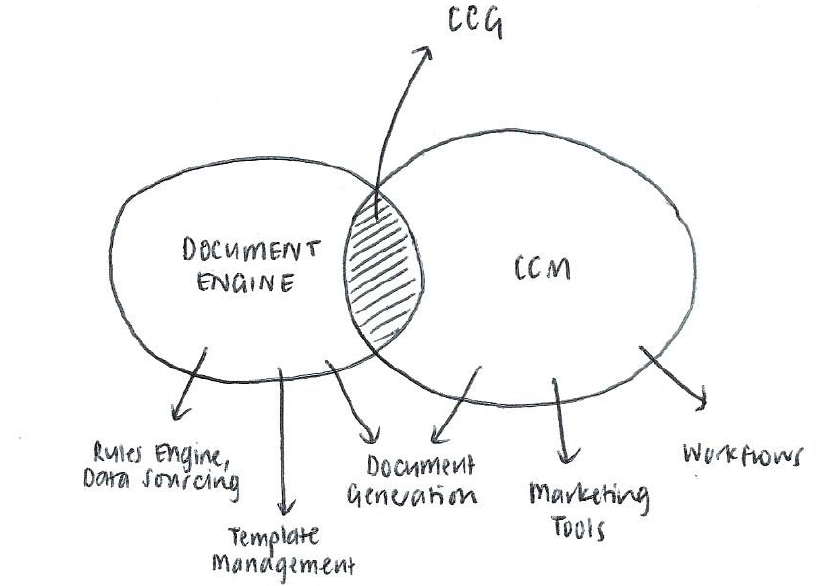 ActiveDocs Document Engine in relation to CCM
ActiveDocs' focus on document generation, together with ease of maintenance by business users – freeing the organization's IT department from routine operation of the software – is unseen in the world of CCM.
Organizations that emulate their competitors' use of CCM packages gain little or no technological edge and, in turn, miss opportunities for ongoing competitive advantage.
Why?
A solution that eschews packages, and instead integrates best-of-breed products for document generation, workflow, and marketing, is inherently more flexible and more readily tailored to the organization's needs.
A well-architected solution also allows swapping-out of component products without high-risk all-or-nothing updates. You can maintain competitive advantage by adapting to internal and external change. You are taking advantage of new technology, new applications, and new features in individual applications, and at the same time you are avoiding single-vendor lock-in.
As part of a combination CCM solution, a best-of-breed document engine like ActiveDocs also offers a "universal document vending machine". This works for areas of the business like HR, Purchasing, or Finance, that would never use CCM – let alone be able to leverage the inaccessible document generation capability of a monolithic CCM.
It becomes an enablement platform for their document and communication generation, and business users can do the work themselves.
Wise organizations will select best of breed products that fit their strategy, and build an organization-wide technology capability that gives them competitive advantage that is hard or impossible to replicate by others.
Is this going against the hype of all-in-one, no-worry, can-do-it-all solutions?
Yes, absolutely.
Industry landscapes were never changed, and market shares rarely won, by those who just go with the flow.