ActiveDocs is a Microsoft® Gold Certified Partner committed to supporting Microsoft Office productivity technologies including SharePoint and MOSS. As SharePoint becomes a market leader in Document and Content management, ActiveDocs Opus provides SharePoint users with additional functionality, usability, efficiency and productivity - significantly improving ROI with an end-to-end document creation and management solution.
ActiveDocs Opus Integration allows document creation from SharePoint and document storage into SharePoint in any combination. An end-to-end solution could comprise the following steps:
Start Document Creation from within SharePoint (see below)
The ActiveDocs Opus Document Wizard runs and the document is compiled
Store the compiled document in SharePoint (see below)
ActiveDocs Opus starts a SharePoint Approval Workflow
On completion of the SharePoint Approval Workflow, ActiveDocs Opus finalizes the document in PDF format and store it in another SharePoint Document Library
SharePoint User Workplace
In this example ActiveDocs Opus SharePoint Module web parts present a list of available Templates, a list of in-progress documents, and the ActiveDocs Opus Document Wizard, within a 'user workplace' page in SharePoint.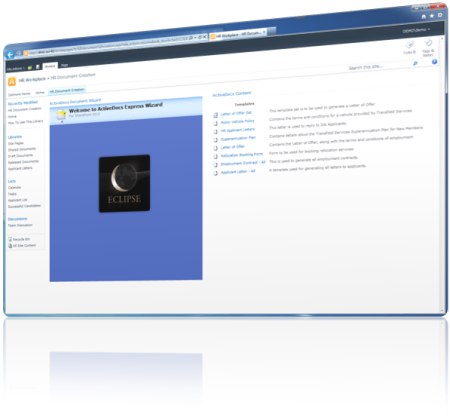 ActiveDocs Opus Document Wizard
ActiveDocs Opus Document Wizard is launched within the workplace page when the user clicks on a Template or an in-progress document.
Discover more about the exceptional capabilities of the ActiveDocs Opus Document Wizard here.
SharePoint Document Library
ActiveDocs Opus SharePoint Module enables specialized SharePoint Document Libraries with ActiveDocs Opus Template Selection, Document Recreate, and Finalization functions.
When the user clicks the library's New Documents button a list of available ActiveDocs Opus Templates is presented.
Document Generation in Document Libraries
ActiveDocs Opus Document Wizard is launched from the SharePoint Document Library when the user clicks a Template.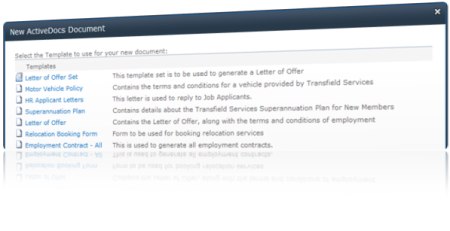 Document Finalization
Document Finalization is an ActiveDocs Opus function launched manually or automatically from the SharePoint Document Library in accordance with Approval workflow rules (SharePoint Workflows, Nintex, K2, Kofax TotalAgility etc.). Finalization features include watermark removal, watermark replacement, document format conversion, and document storage redirection.
Finalized Documents
In this example finalized documents are converted to PDF and stored in another SharePoint Document Library (Released Documents). The full process allows users working in SharePoint 'workplace' pages or Document Libraries to create Documents with ActiveDocs Opus, invoke SharePoint workflows, and finalize approved documents.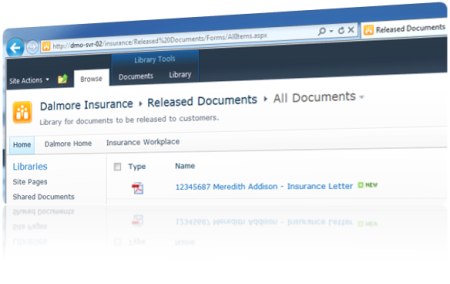 Document Storage into SharePoint
Any SharePoint library accessible by the ActiveDocs Opus Composition Server can be nominated as a document repository where documents are sent automatically on completion. Documents may also be delivered to email recipient(s), print, fax, or other locations like the ActiveDocs Opus database, the file system, WebDAV, or Web Services.
Documents sent to a SharePoint library are subsequently managed by SharePoint according to that SharePoint library's configuration with all of the maintenance, versioning, workflow and sharing options supported by SharePoint.
ActiveDocs Opus supports a range of additional Document Storage options which are described here.
Document Finalization into SharePoint
Document creation isn't always a linear process, even with the addition of Document Automation. A document can go through a number of revisions and adjustments, and maybe some approval/rework cycles, before it is deemed "complete". And at the point where it is deemed "complete", we could imagine one or more additional, conditional, optional processes being performed on it.
ActiveDocs Opus supports post-creation processing with highly functional, conditional, and configurable Approval and Finalization workflows, including storage in SharePoint and other locations and applications.
The new SharePoint Connector for Document Save in ActiveDocs Opus sends to SharePoint with the document all of the document's metadata, including document properties and ActiveDocs Opus data such as the user, subsite, document id, and return URL (which can be used to enable a link from the SharePoint library back to the ActiveDocs Opus database). SharePoint will match the metadata with the available columns in the specified library.
Like all workflow settings the library location can be set at the global level, and per subsite, and per Template, and may be varied for every document. Learn more about ActiveDocs Opus Workflow here.
With ActiveDocs Opus and SharePoint
The ActiveDocs 'right template, right now' philosophy and seamless integration mean that document creation is discreetly, and discretely, controlled to virtually eliminate document risks
From SharePoint (or any other familiar environment) users can rapidly and accurately create and store complete and properly-formatted documents
Seamless integration gives users a smooth workflow in which ActiveDocs Opus becomes a natural part of the working environment