Progress through the ActiveDocs Document Wizard
Document Wizard
The Document Wizard forms are generated automatically from your ActiveDocs template. All data, input, calculations, and business logic are assessed in real time – this way, the user is presented only with questions that are relevant to the documents being generated.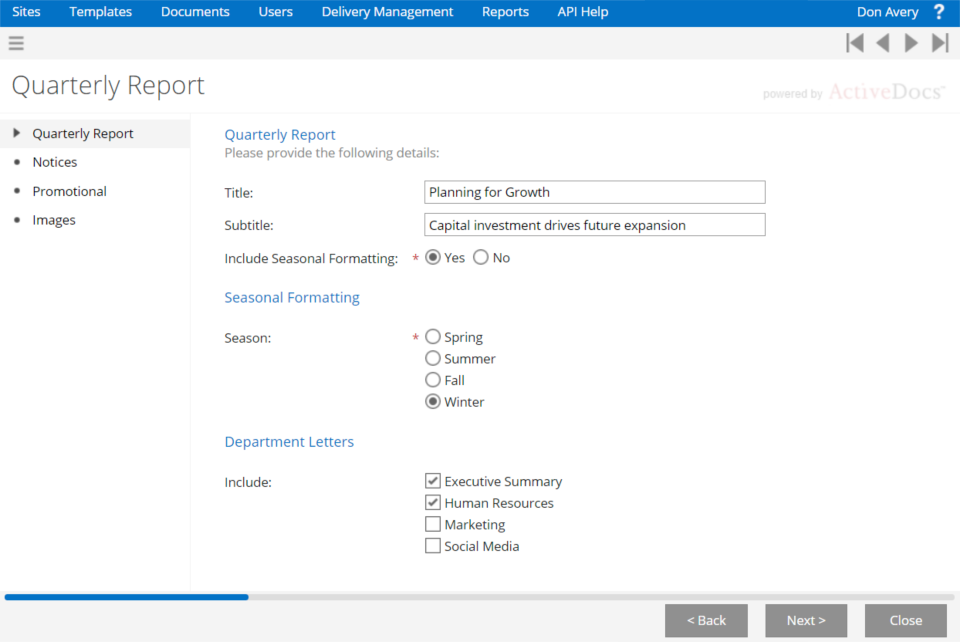 Data Integration
ActiveDocs' out-of-the-box Salesforce data connector enables business users to connect directly to data sources, or create custom web services that take advantage of standard web services provided by other systems such as Salesforce.com.
Data Views will pull relevant data, from Salesforce or elsewhere, and insert it into required documents like contracts, agreements, and sales proposals. This also means multiple data sources, both internal and external to the company, can be used for a single document.
Data that you have already captured in Salesforce – like Accounts, Opportunities, and Contracts – is made available to automatically populate your documents with the right details. ActiveDocs can perform powerful validation and cross-checking to ensure that your business rules are followed to the letter.
Drafting, Approval, and Finalization
The powerful workflow features of ActiveDocs allow documents to be drafted, approved, and finalized under precise control and according to your business rules.
ActiveDocs workflows are highly flexible and can work dynamically with document data and metadata to adapt to each and every document. For example: some combinations of users, discount levels, and total proposal values might mean that different approvers and approver pathways may be required, and different document formats might be appropriate. ActiveDocs gives you that flexibility, and it really is capable of handling every document in a different way if your business processes require it.
Reporting
Every item of information that you use to build a document, and metadata like user, site, date, and time, can be saved and used in ActiveDocs' powerful and customizable reporting engine, giving sales managers unparalleled breadth and depth of oversight in real-time.